Customer Reviews
Write a Review
Ask a Question
C
10/25/2020
Charlene
United States
This bag was perfect, and chic!
I purchased this bag over a year ago actually, and did not have a reason to use it until now. We went to a wedding yesterday and brought our 15 month old boy to it. As much as it was enjoyable to get together with a whole bunch of family, this diaper bag was not only comfortable and convenient, but it also made taking care of our little boy a breeze for the entire afternoon and evening. Going to changing stations, so easy. Getting anything we needed packed for the event itself, took about 15 minutes. Anything our son needed while eating with us at the reception tables, got it in a snap. I highly recommend this useful travel diaper bag. Not only does it look elegant (I received many compliments), but it also helped our lives the whole time. Great product. Add it to anyone's baby registry! ~Charlene
10/25/2020
Parker Baby Co.
Wow, that is the sweetest review! We are so glad we created such a helpful product for you. Thank you for your support, Charlene!
S
10/21/2020
Suzie
United States
Wish certain things were improved
I thought that this was the best diaper backpack, but over time, it started to show poor craftsmanship. The receiving metal clasps fell off and now, they don't work. Conceptually, it was my dream backpack, but in the end, it had flaws that made it less than ideal. I also tried to reach out to customer service outside the warranty window (which is way too short) and it didn't get resolved.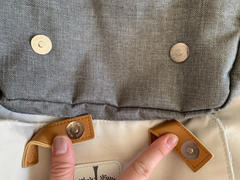 10/21/2020
Parker Baby Co.
Hi Suzie! Thanks for reaching out to us. This is the first review in our system we have from you! We also do not have a history of any emails from you. We are so sorry about this confusion and frustration with your Birch Bag. Emma from our Customer Service team will reach out to you to help from support@parkerbaby.com so be sure to check your email folders! Thanks!
10/14/2020
Camille T.
United States
Great Bag
I've been happy with this bag. I've used it for two years now, and it's still so great. I love that it has a large central pocket which fits everything I need, but it also has separate large pockets for diapers and snacks respectively. The side pockets are great too! They fit any size of water bottle or zippy cup because of the zip feature. I would definitely buy this bag again.
10/15/2020
Parker Baby Co.
Thank you so much, Camille! We appreciate your feedback!
10/13/2020
Bradley K.
United States
Thank you!
Hi I just wanted to let y'all know that the bag we ordered is amazing and I love what your family represents. I am originally from castle rock/Parker area. Thanks again and our new baby boy is going to get tons of use out of our new bag. Bradley K
10/15/2020
Parker Baby Co.
Hey Bradley! That's so sweet and we are so grateful you took the time to leave us a review!
10/05/2020
Peggy C.
United States
Baby shower gift
Excellent experience. Quality backpack and very fast delivery!