Customer Reviews
Write a Review
Ask a Question
04/26/2021
Daesha M.

United States
Really love my bag but straps broke
After 3 days of using on my vacation in Hawaii the stroller straps broke which was a bummer because that was a huge reason why I ordered this bag but overall I love this bag! So small yet has lots of room and helps keep me organized
04/30/2021
Parker Baby Co.
Hi Daesha! We are so sorry to hear that! Emma from Customer Service team will be reaching out to you to help!
04/24/2021
Holly L.

United States
Super Cheap Materials
I just received my diaper bag in the mail and I'm really disappointed by the ultra cheap materials. I'm torn between just using it or paying to return it because the company doesn't cover return fees. I'll probably keep it, but I definitely won't be a return customer for this company. Everything on this bad feels horrible and cheap. The leather is a very thin plastic material that feels horrible to touch. The metal clasps have no weight or sturdiness to them and feel like they were made for child level jewelry that will break if you use it. This bag needs to be half the cost to be on par with the quality of materials they made it with.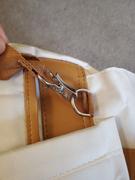 04/26/2021
Parker Baby Co.
Hi Holly! We are so sorry you feel this way. Your Birch Bag does not sound like the quality we stand behind. We would love to help you if you could please email support@parkerbaby.com Thank you! Emma - Customer Experience Specialist
04/21/2021
Jolie S.

United States
The best diaper backpack out there!
This diaper backpack is absolutely amazing! The best quality and perfect size for taking your babe to the beach or park! I love the insulated pockets and diaper changing pad! 5 stars!
04/22/2021
Parker Baby Co.
It's so versatile! Thank you for your review!!
04/13/2021
Shelby T.

United States
Amazing product
I have 3 1/2 trace old twins and have had my birch bag since they were about 2 and it still looks brand new (minus the fact it needs cleaned a little). And we absolutely love it! It has plenty of space I need for two babies/ now toddlers stuff. And super comfortable to wear! 10/10 recommend!!
04/13/2021
Parker Baby Co.
Thank you so much for your review, Shelby!!
04/05/2021
Janice D.

United States
lovely gift
This was on my niece's wishlist for her baby shower, so I ordered it for her. It looks beautiful!
04/05/2021
Parker Baby Co.
Hi Janice! Thank you for your review! We would love for you to update the review with 1 being lowest rating and 5 being the highest! Thanks!