Customer Reviews
Awesome diaper backpack for mom and dad
My husband and I love this bag! We tried a few before we discovered this one, and couldn't find one that we both liked the look and function of until this one. We love it's simple, smart design - looking both modern and a bit outdoorsy. It's got plenty of useful organizational compartments and room. We can both wear this one comfortably, or it hangs nicely on the stroller, thanks to the well-designed stroller straps. While I love that my husband is happy to carry this bag, too, I would buy it even if it was only for me!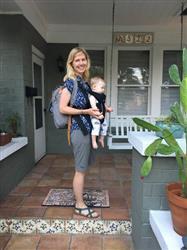 11/11/2019
Sonja S.
United States
diaper backpack
I bought it as a shower gift. HOwever, another person bought a similar gift which the mother-to-be chose. So am giving the Parker to a women's shelter where it will be used with gratitude.
10/26/2019
Marisol L.
United States
Love it
I love the size, fabric and desing of it. Definitely the best option for a diaper back pack.
10/22/2019
Stella W.
United States
Grey backpack
It was a gift for a granddaughter
This is the best bag ever
We got this for our now 15 month old... and in the year and a half we had him and our adventures, managed to use it so much that the snaps broke off. We took it to the beaches, on airplanes, skied with it, hiked with it, and obviously brought it to parks, restaurants, the zoo, museums, and the car floor. It has pockets for everything, good space for a computer, spare clothes, extra bottles/snacks, and then some. After all our wear and tear with it, Parker Baby was kind enough to send us a new one when I asked about repairing it (at my cost at a tailor or shoe repair place). With that kind gesture, I can fix our old one and donate it to a local mothers' shelter. Thank you all so much for being so good to your customers, so that we can pay it forward in our community. I will buy these for friends who are expecting. It's a most awesome necessity. PS - Even my husband uses it!