Customer Reviews
Write a Review
Ask a Question
03/15/2020
Colleen T.
United States
Love this bag!!
The Minis the perfect size for us for everyday use! The biggest compartment has great pockets in mesh and solid cloth, and unzipps to the bottom of the bag which makes access so easy! We were slightly concerned about buying a bag without seeing it in person, but we have zero regrets and would absolutely buy again.
03/16/2020
Parker Baby Co.
Thank you, Colleen! We are so happy to hear that!
02/21/2020
Amber P.
United States
Thank you Parker Baby Co.
I received a muslin quilt from Parker Baby a month ago as a baby shower gift and right away fell in love with it. I had never heard of Parker Baby before! We've used muslin blankets before but I'd never seen a quilt like this. We're 3 weeks away from meeting our little guy and have this beautiful muslin quilt packed away and ready to bundle our little guy up with when he arrives. After receiving the quilt, I right away went on Parkerbaby.com and started looking at their other baby products. I just love that this amazing and precious family makes quality, relevant and uniquely their own baby products! We realized that we didn't have a diaper bag yet, duh! And so we saw that Parker Baby had 4 diaper backpacks available. We loved the colors, the fact that their a backpack and that a Daddy can comfortably wear it too. So we purchased the smaller Birch Bag. We love it. We have our little guys Birth Center goodies all packed away in this diaper bag and everything fit perfect. There's lots of pockets and places for everything you need for baby, a place for Mama's wallet and snacks and such for the other littlens. Thank you Parker Baby do taking such care to make your products amazing! We will be sharing this amazing company with our other friends!
02/22/2020
Parker Baby Co.
Wow, this is o amazing to hear, Amber! Thank you so much for taking the time to write a review!
02/02/2020
A R.
United States
I wanted to love it but...
I didn't want a big diaper bag not the tiny ones on amazon which aren't ideal. I received this one in the mail and when I opened it i noticed the following: one of the inside zippers were a bit flimsy. The zipper to actually open the bag wasn't in tact I actually had to try to "zip it" back on track. The inside "center" pocket wasn't actually in the center... it look like it was speed incorrectly unless that's the design...? I would have emailed to ask for a replacement but I just gave birth, I have a toddler at home and a newborn I don't have the energy to deal with shipping it back, waiting for my return, getting it replaced, etc. I'm going to keep it because I paid for it and I do not condone being wasteful but it is distasteful wearing a bag not worth the price.
02/03/2020
Parker Baby Co.
Hello! I'm so sorry you are not satisfied with your Birch Bag Mini. The pocket you are describing was actually designed to be off center because of the elastic water bottle strap on the other side. If you are still not happy, you are more than welcome to email support@parkerbaby.com and we will facilitate a return.
11/25/2019
Erin A.
United States
The Mini is Magic
I love this diaper bag. I have a (***** trained) 3 year old and a 4 month old and this backpack is just right. It's so easy to keep it organized because there are so many pockets. I have had several Skip Hop diaper bags, an Honest Company diaper bag and most recently a Fawn Design diaper backpack - the Birch Bag Mini is better than all of them! My husband loves the look, it's very gender neutral and modern. There is enough space for a nursing cover, a muslin blanket. several diapers and a pack of wipes, a change of baby clothes, extra undies for the toddler, a bib, burp rag, changing pad, my wallet and other essentials and I can fit my big Hydro Flask inside the backpack. The only thing that might make this better is an exterior water bottle pocket in place of one of the insulated bottle pockets and possibly stroller hooks. I'm a repeat offender when it comes to over packing my diaper bag and this one is just big enough for everything you need but small enough that you can't pack so much stuff that the backpack gets heavy to carry, which is the problem I ran into with the Fawn Design backpack. Get it, you will love it.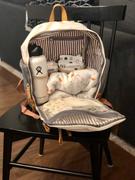 11/27/2019
Parker Baby Co.
We are so happy to hear how much you are loving your Birch Bag Mini! Thank you for your review!
11/11/2019
Katie M.
United States
Perfect Gift
This is my second Birch Bag that I have bought as the perfect gift for a new mom-to-be! Both recipients of the bag have had nothing but good things to say as far as quality, space, and even how cute it looks. Will continue to buy as gifts for others until I'm ready to start a family of my own! :)
11/12/2019
Parker Baby Co.
We are so happy to hear that!