Customer Reviews
Write a Review
Ask a Question
08/02/2021
Candice J.

United States
Perfect!
These are so cute and useful! They're super soft and help keep baby's drool from soaking her clothes. They also give her something to chew on. I love the patterns and they're easy to wash. All around a great purchase.
08/02/2021
Parker Baby Co.
08/01/2021
Amy K.

United States
07/30/2021
Alicia F.

United States
Awesome bibs
Great quality !!
07/29/2021
Blair O.

United States
Best bibs
We are addicted to these bibs. Our son drools constantly, so every moment he is not sleeping, he wears a bib. The material absorbs flawlessly without allowing any wetness to seep through to his clothes. We bought a second set (we use 8 a day), and buy them for all our expecting friends. Highly recommend.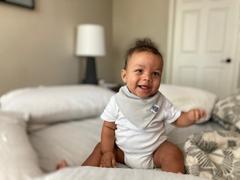 07/30/2021
Parker Baby Co.
07/29/2021
Jenny M.

United States
Wary at First...
I was wary when they first arrived because they seemed to ride up on her face (because of the way they fold over at the top) but after I few wears I understood the genius of the design. They also work well as drool rags if you don't keep them as bibs or your baby doesnt want to wear theirs all the time. Theyre super soft and absorbent and super cute. Gonna buy the 8 pack next.
07/30/2021
Parker Baby Co.
Hi Jenny! Thanks so much for the feedback!