Customer Reviews
Write a Review
Ask a Question
09/16/2020
Mary A.
United States
Fabulous Hooded Towel
I decided to order the toddler size for my baby grandson so he could use it a long time and I'm so glad I did. It is fluffy, absorbent and snuggly. I love wrapping him up with it. This will definitely be my "go to" baby gift from now on.
09/17/2020
Parker Baby Co.
We love that! Thank you so much!
08/20/2020
Deana D.
United States
Very Plush
I purchased the toddler size which works great for my infant since he hates being cool. I recommend washing and drying a few times to eliminate the fuzzies. Love it!
08/20/2020
Parker Baby Co.
Thank you for the feedback, Deana!
07/27/2020
Lili
United States
Best one ever
I usually don't leave reviews, but I had to since I'm impressed with the quality of this towels. I'm a big fan of big fluffy towels and this is exactly what this one is. My toddler is a tall little dude and this towel covers him nicely and cozy!!! I got the toddler size and it's a great size!!! I'm glad I got 4 towels, best purchase ever! It's wide, thick, very fluffy and super absorbent.... dries quick overnight too....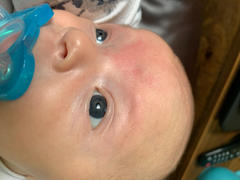 07/27/2020
Parker Baby Co.
That's amazing to hear! Thank you so much for your review!
06/05/2020
Sue B.
United States
Love the hooded towels
Love the hooded towels! So soft and great quality. They shed a bit so wash by itself first. I can't wait for the toddler size to restock. I'm going to buy all my grandkids one, have their names monogrammed on them and keep them at our beach house!
06/06/2020
Parker Baby Co.
Hi Sue, thanks so much for taking the time to write a review!
04/11/2020
Amy
United States
Love the size and the hood
We were given this towel as a gift for my infant. It's now the only towel we use for her and she is 2.5 years old now. It's still fits her great! I believe we have the infant size. The quality is awesome, super thick! But what I like about it is that the hood is attached to the regular sized towel. Most hooded towels have the hood in the corner of the towel but this one is a normal towel with the hood as an attached piece. We love it and will be getting another (maybe a couple) for my 3 month old.
04/13/2020
Parker Baby Co.
We are so glad, Amy! Thank you so much for leaving a review!