Customer Reviews
Write a Review
Ask a Question
06/05/2020
Sue B.
United States
Love the hooded towels
Love the hooded towels! So soft and great quality. They shed a bit so wash by itself first. I can't wait for the toddler size to restock. I'm going to buy all my grandkids one, have their names monogrammed on them and keep them at our beach house!
06/06/2020
Parker Baby Co.
Hi Sue, thanks so much for taking the time to write a review!
04/11/2020
Amy
United States
Love the size and the hood
We were given this towel as a gift for my infant. It's now the only towel we use for her and she is 2.5 years old now. It's still fits her great! I believe we have the infant size. The quality is awesome, super thick! But what I like about it is that the hood is attached to the regular sized towel. Most hooded towels have the hood in the corner of the towel but this one is a normal towel with the hood as an attached piece. We love it and will be getting another (maybe a couple) for my 3 month old.
04/13/2020
Parker Baby Co.
We are so glad, Amy! Thank you so much for leaving a review!
02/25/2020
Alison V.
United States
Luxe
❤ LOVE ❤ These towels are amazing. The are so luxurious, thick and soft. It did shed the first wash-as expected and left my baby a little linty after first use but not after a while. Quality!
02/18/2020
Carly H.
United States
The only hooded towel you will ever nees
I don't even know where to start. This is THE best hooded towel you can buy. My baby absolutely loves it's and always snuggles up with it after post bath. It is so plush, soft, and will grow with her. She's 2.5 months old & won't be growing out of it for a very long time. I will be buying one of these for every expecting mother because every baby deserves to be comfy and cozy after bath time ❤️❤️ Thank you Parker Baby Co.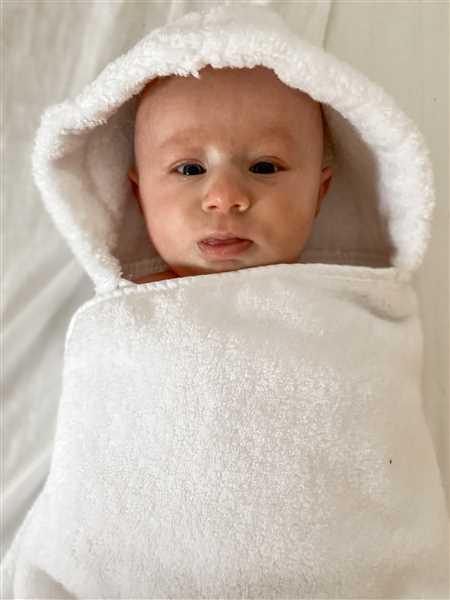 02/19/2020
Parker Baby Co.
That is so sweet, Carly! Thank you so much for your review!
01/26/2020
Jeanne D.
United States
Cozy
Loved it! Beautifully soft