Customer Reviews
Write a Review
Ask a Question
01/09/2021
Eleanor P.
United States
01/05/2021
Justine K.
United States
Must have baby item !!
This is my 3rd time purchasing a set of these bibs. I got them because they were such a cute stylish print and very neutral, I noticed my son liked rubbing the material when he was about 3 months old and it would instantly calm him. When he would cry I would give him one of these bibs and he would calm down, then he eventually found his thumb and so he would such his thumb and have a bib in the other hand. It's pretty much like his safety blanket! Lol he is obsessed and it literally brings him so much comfort! I don't hang dry them like the directions suggest, I just dry them in the dryer. They do end up having a more rough feel after throwing it in the dryer many times but my son loves the rough texture. So when we buy knew ones he knows and will throw it on the floor to look for the OG rough ones! Lol so we do try to wash it more frequently to get it to that rough stage! Lol But if you are looking for cute VERY SOFT bibs! These are it!!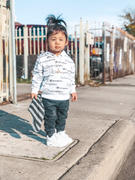 01/05/2021
Parker Baby Co.
We appreciate this review! Thank you so much, Justine!
12/29/2020
Lindsey D.
United States
Favorite bibs!
These are so absorbent for my drooly little one!
12/30/2020
Parker Baby Co.
Thank you so much, Lindsey!!
12/29/2020
Laura N.
United States
12/29/2020
Rosemary N.
United States
Bibs
Love them they look adorable