Customer Reviews
Write a Review
Ask a Question
Awesome diaper backpack for mom and dad
My husband and I love this bag! We tried a few before we discovered this one, and couldn't find one that we both liked the look and function of until this one. We love it's simple, smart design - looking both modern and a bit outdoorsy. It's got plenty of useful organizational compartments and room. We can both wear this one comfortably, or it hangs nicely on the stroller, thanks to the well-designed stroller straps. While I love that my husband is happy to carry this bag, too, I would buy it even if it was only for me!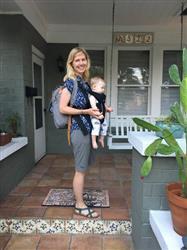 01/21/2020
Sarah
United States
Love!
I love this bag. My sister has it in cream and while I was pregnant, I was constantly looking in all the pockets trying to decide how I'd organize it. We ended up getting a different bag at the baby shower and I used it for about a month before I bought this one for myself. It's been great and my husband likes it as well. It's large enough to fit him well and easily adjustable so he can make the straps sit where he needs it. Don't waste your time on others!
01/22/2020
Parker Baby Co.
Thank you so much for your review, Sarah!
01/19/2020
A S.
United States
Stunning Bag for our baby and toddler
We think this bag is just gorgeous! We ordered it all the way from New Zealand we loved the design so much. Since it has arrived we have used it every day. It's is beautiful quality and it has so many amazing pockets and features. It easily fits everything we need for our baby, toddler and Mama on our outings. It's stylish for either Mama or Dad to wear and we get so many compliments every time we wear it. We love it.
01/19/2020
Parker Baby Co.
Thanks so much for your review!
LW
01/18/2020
Leah W.
United States
Great diaper bag for multiple kids!
We absolutely love our Birch Bag! Our kids are 3, 2, and now a newborn, so we have plenty of things we need to take with us when we leave the house. I love how spacious the bag is while not seeming huge. It is so cute while not looking too girly for my husband to gladly wear. This bag combines practicality and style perfectly, along with being very durable!
01/19/2020
Parker Baby Co.
Thanks so much for your review! We are so glad to hear that you (and your hubby) are getting such great use out of your Birch Bag!
01/17/2020
Rosemary M.
United States
Birch bag
I'm giving it as a gift but I like the look. I'm sure they will like it.
01/17/2020
Parker Baby Co.