Customer Reviews
Write a Review
Ask a Question
04/26/2022
Rachael M.

United States
Comfortable, cute, and absorbent
We bought these bibs for our 6-month-old daughter to use during bottle feedings and solid food tasting. They're really great - soft, comfortable, cute, and absorbent, so when she opens her full mouth and lets all of the milk dribble out (something she does a lot lately) it usually gets caught before it hits her clothes. Best of all, even when the top of the bib feels saturated, the bottom (the part touching her chin and chest) stays dry - so I feel like it's more comfortable for our daughter than other flimsier bibs. And I love snaps - they're so much more durable than velco.
04/22/2022
Kristi L.

United States
ABSOLUTELY LOVE!!!
Haven't used it yet, but I know when my grandson is born, he is going to look amazing!! Love your products!
04/15/2022
Mehar H.

United States
Love the colors
Love the colors. They did not fade after washing. However, the color does noticeably get darker when wet and our little one goes through several in a day. Overall great addition to outfits when going out, catches drool right under the chin too!
04/12/2022
Ophelia R.

United States
Bibs
They are great!!!!! This is my second order.
04/11/2022
Jess C.

United States
Great Quality
Love these bandana bibs! It's no secret baby boy clothes tend to be a little less exciting than baby girl stuff. Bandanas are a fun way to "accessorize" my little bubs, while keeping the copious amount of drool off his outfit so we don't have to do a hundred wardrobe changes. Love all the color options, and they are super thick and soft!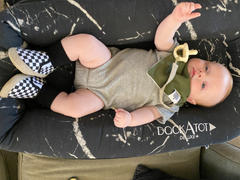 04/13/2022
Parker Baby Co.
Thank you so much for your review, Jess!