Customer Reviews
Write a Review
Ask a Question
09/22/2020
Nicole M.
United States
So Adorable!
I love these bows! In addition to being the most adorable bows I've seen, they seem to be very well-made and are the perfect fit for my 6-month-old's head (not too tight but they stay in place). I love the variety of colors, fabrics, and designs.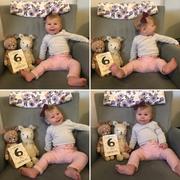 09/24/2020
Parker Baby Co.
That's so sweet and she is so adorable! Thanks for your review, Nicole!
09/08/2020
Paula M.
United States
Nice but not good quality
The bows are beautiful but the quality is not really good , no very long lasting
09/09/2020
Parker Baby Co.
We are so sorry to hear this! Can you reach out to us at support@parkerbaby.com so we can help? Thanks!
06/08/2020
Amanda W.
United States
Great Experience, beautiful bows!
Parker Baby Co. was amazing! I placed my order for 2 packages of bows and received them very quickly. I was missing one bow from one of the packages and they immediately took care of it, shipping out the missing bow to me. They responded to me very quickly, and were very helpful. And not to mention, the bows and headbands are beautiful! I can't wait to use them with my little girl.
06/11/2020
Parker Baby Co.
We were so happy to help!
06/05/2020
Linda M.
United States
Love the bandana and bows!
The items have easily become my favorite and favored over the others I had. The bows fit my baby perfectly and the material used is soft and comfortable for my baby girl. Keep making fantastic products, love love!
06/05/2020
Parker Baby Co.
That is so sweet, Linda! Thank you for your review!
11/22/2019
Shana F.
United States
Super Cute
I have not yet used these, because my daughter is not due until February. However, they are super cute and seem to be of good quality. There are plenty of options to use with various outfits!
11/24/2019
Parker Baby Co.
We are so excited for your baby girl to be able to use these when she arrives in February!